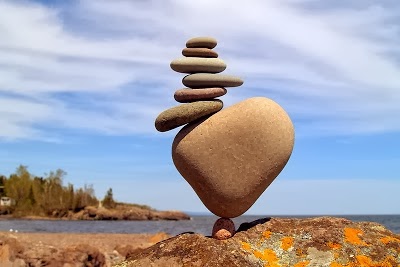 Why PracticeBalance?
Three of four residency training years had gone by, and I was poised to spring into my career as an anesthesiologist. Only my stress management skills were so poor that I was literally making myself sick. While working to preserve life for others, something inside me was dying. I could taste the bitterness building in my blood, and the cold hospital air further crystallized the acids. I was burning the candle at both ends and surviving on the fumes.
At the same time, I was in the beginnings of a fertility workup; we wanted a family, but I had lost my period. After an extensive panel of blood tests, I was told the reproductive hormones that were supposed to be circulating in my body were abnormally low due to a high level of stress. Unable to accept this reality, I set out on a quest to fill my personal black bag of stress management tools. While this provided me with great self-knowledge and an introduction to mindfulness philosophies that I desired to share with others, it did little to solve my fertility problem and physical condition. I'll never forget the day the answer finally came: on the Saturday before Easter 2011, I reluctantly laid in an MRI scanner at my training institution on a preciously rare day off. I had been too busy and too poor to get the MRI, and after all, I knew I didn't have a brain tumor.
Famous last words… There it was staring at me, dense and white on the computer screen in the dim light of the radiologists' reading room: I had a large pituitary adenoma wrapping its tentacles around my optic nerve. This moment, my first foray into what it's like to be a patient, changed the trajectory of my life and inspired me to share my journey towards a life of balance of meaning. A life that has purpose beyond just work.
Everything in life is a practice, as we are always learning. We rarely become experts in any one thing to the point where we can just sit back and coast. Medicine, stress management, personal improvement, health, fitness, parenting, relationships… I write about all of these things at PracticeBalance.com. You'll find a blend of my personal experiences, inspiration, and information about how you can pursue simplicity and happiness in the four realms of balance: work, home, community, and self. Enjoy reading my most recent articles along with years of content on this blog!