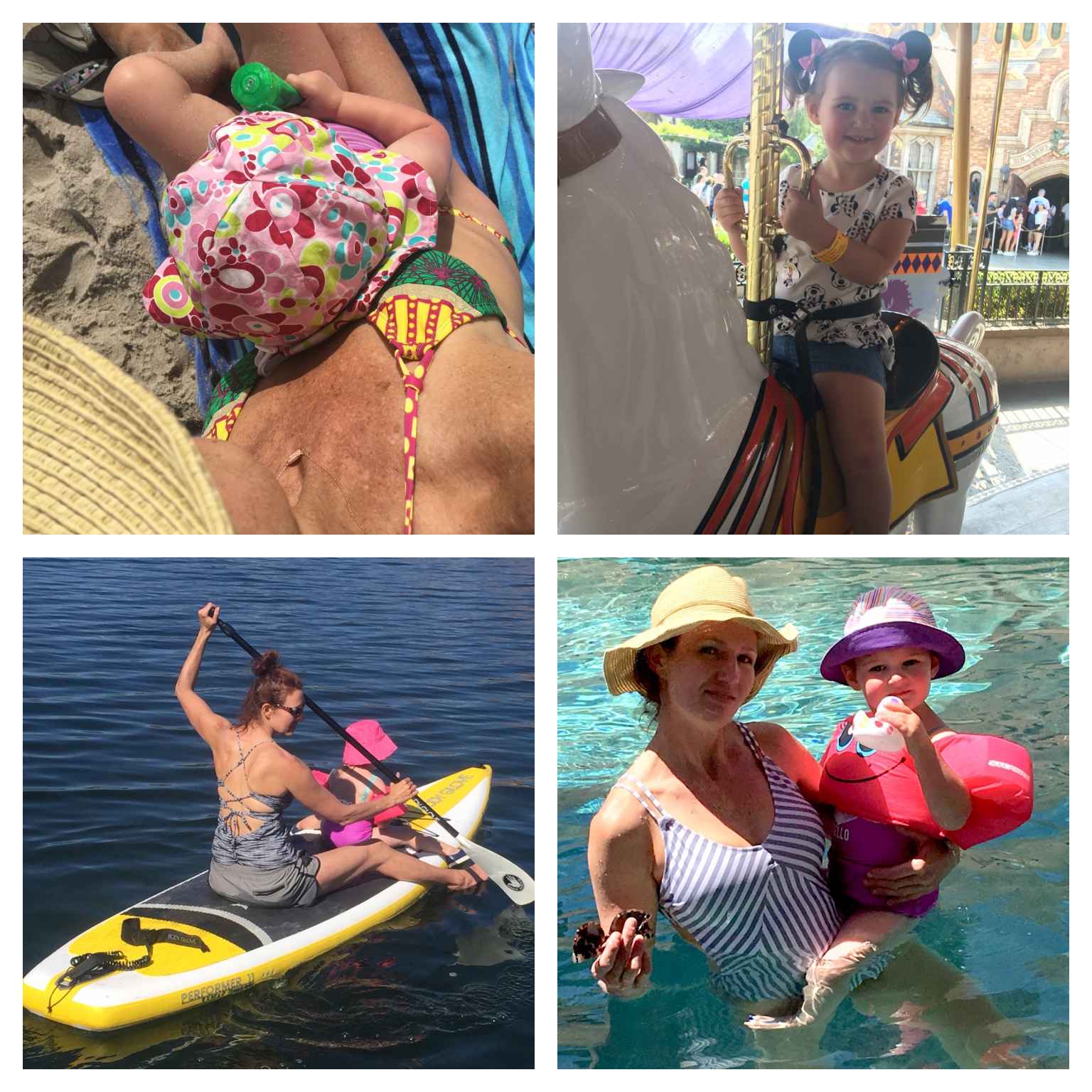 I've been trying to incorporate ideas of minimalism into my life for a while now. My closet is smaller, I remove one chotchke from the hallway shelves every time I pass, I only buy books on rare occasions… But I draw the line at traveling with only a carry-on bag. Many friends boast (or even blog) about their minimalist packing strategies (especially those who travel for work), but despite my own dabblings in minimalism, I prefer to pack heavy. While we tend to love slow travel and ideal vacations in my family, I've recently gone on a couple of shorter trips (duration around one week) where packing heavy works just as well.
Maybe it's the rock climber in me that doesn't mind this, as I spent years taking month-long trips across the world schlepping pounds of ropes and heavy gear. Nowadays, it's about realizing what I value most and bringing some of the comforts of home with me to minimize the stress and immune system load of travel. Some uncomfortable moments when transitioning from the airport or car is worth having some of the things I love about home. I'd argue that even if the airline is charging fees for checked bags, the outlay of, say, $20-40 is worth it to have certain things with you at your destination. Just don't exceed 50 lbs per bag, or you'll end up paying a high premium for oversize baggage!
Bring lots of snacks… and good coffee
It's no secret that I like good coffee , so one of my hacks is to bring my own coffee setup. One particular holiday, three generations of my family stayed at a nice Las Vegas resort. There was one Starbucks in the entire lavish tower, located just adjacent to the casino. Standing in line for 30 minutes to pay more than $3 for over-roasted coffee in the smoke- and slot-filled lobby made me say, "Never again.". And I refuse to make instant coffee in a plastic machine with water from the hotel sink. My coffee setup includes a small plug-in water boiler and an Aeropress coffee maker. Also, I pack a small water filter like this so that I can easily filter out at least the nasty taste that comes with most city water. Sometimes I bring the actual coffee and sometimes I buy it there, but it must be ground (unfortunately).
Because I value eating healthy food and don't want to just eat any old junk food from a convenience store or restaurant, I always pack a big bag of snacks. This includes Quest bars (IMO the best low carb protein bar hands down), Chomps beef sticks, packets of olives, sleeves of salmon, good quality nuts, dark chocolate, etc. I also usually pack protein powder (you can get packets like these, but I make my own baggies out of True Nutrition plain protein powder mixed with powdered collagen, cocoa, and stevia). I just mix these with water or almond milk and have a built-in starter breakfast for the day.
Utilize the nearby grocery stores
Speaking of food, we have a standard practice of only eating out for dinner (if that) on trips like these. However, a non-negotiable thing I need in a hotel room is a mini fridge. Luckily, nowadays they're very common in most hotels (and can be added to a room upon request). Then, on top of bringing the snacks I mentioned above, I'll go to a nearby store and stock up on some fresh food items. As a side note, going to a local supermarket in a different city gives you a little glimpse into that local flavor you frequently miss on these shorter trips vs. a slow travel situation. Good things to buy include a few pieces of fresh fruit, some sort of milk, flavored soda water or other drinks, yogurt, deli meats, cheeses, and avocadoes. If you can find hard-boiled eggs, they work really well for breakfasts or lunches, too. Specialty-type grocery stores like Trader Joe's also carry quite a few options for pre-prepared (but relatively healthy) food options. One of my favorite things to buy there when I'm traveling is pre-cooked chicken breasts.
With services like Uber and Lyft, it's usually very easy to get to a grocery store even if you haven't rented a car. If you're traveling with kids, having these types of food available for breakfast and lunch can really help mitigate meltdowns as well. And it leaves you with more time to explore/do the things you traveled to do vs. going to a restaurant. Yes, it's hard to mobilize children for a trek to the store, but you can always divide and conquer if you're with a spouse or partner. With this strategy, you'll eat healthier overall and spend less money during your trip while freeing up even more time to explore. Enjoy some dinners out at a few restaurants unique to the area!
Don't skimp on clothes, but make them multi-purpose
For a trip of this length, I typically pack enough clothing to not have to do laundry. Who wants to spend half a day at the laundromat or in the hotel basement when you could be enjoying yourself or learning something new? Doing this, however, requires bringing more clothing. Depending on where you're going (and what the weather's like),you can probably re-wear some of your clothes during the week. For my recent conference (which was not formal), I brought enough tops for each day, alternated between two pairs of jeans, and threw a skirt into the mix. I also had one outfit I could wear to work out and a pair of shoes I could easily do exercise in. For kids, all bets are unfortunately off, but at least their clothes are smaller and could conceivably be washed/hung to dry in a hotel bathroom! I always pack a small amount of multi-purpose soap that can be used for this as well.
Clothing is, however, the one area that I've found I consistently overpack. I bring too much because I don't know what I'll be in the mood to wear, and I need to work on this more! A few observations I've noticed recently:
Strike a balance between casual and fancy, and you'll most likely be able to wear it anywhere you have to go.
Wear dark colors so that everything goes with everything else and it doesn't look as dirty if you need to re-wear it.
After I became a mom and we downsized our living space, I got rid of a lot of superfluous clothing. The more I proceed along this path, the more I refine my style and find clothing that works for me in many ways.
Other packing tips
With my method of mini-fridge eating, I always make sure to bring some picnic type utensils (I like these bamboo ones but there are other "camping-style" utensils), a bag of bags or something like Bee's wrap for leftovers, and some sort of large bag (cloth or garbage-size plastic) for dirty laundry. For fitting all your stuff in your bags, I recommend packing cubes (something like these). I never had these before, but after having a kid, I find that they really help to organize and compress items when packing in large suitcases.
If you have a young child like I do, I recommend getting a car seat bag and throwing a packing cube or two (if necessary) onto the car seat. These bags are not as secure as a normal suitcase (usually they have a drawstring closure and are kind of floppy around the car seat), so I've found them most useful to hold an additional cube of diapers, clothing, stuffed animals/kid toys, or something similarly light.
To make your stay in a hotel room more comfortable, try to minimize the amount of crap you leave strewn about the floor. Just like at home, I find that less visible clutter makes for a more soothing experience when you're in the room. Take out your packing cubes and place them in the drawers or on the shelves/benches, and stow the large pieces of luggage away in the closet. Bring a sleep mask for the night-time to make sure it's nice and dark during your slumber. If you tolerate them, wear earplugs so you don't hear guests walking and talking in the hallways or city noise. I also have a satin pillow case I can slip over the hotel case so that my hair gets a bit less ruffled up at night. That may seem a bit "princess" to you, but anything that will make you more comfortable/sleep better in unfamiliar conditions will help make your trip less stressful and more enjoyable!
What about you? What do you bring when you travel for a few days to a week? Do you pack light or heavy? Do you look forward to or dread staying in hotel rooms?
*this post contains affiliate links*